The Chapter publishes an electronic newsletter, the Central Chapter News, three or four times a year depending on activities. Each issue is archived on this web site and can be accessed by clicking on the link for the most recent issue.
2015:
Spring/Summer
Summer
2014:
Spring
Summer
Fall Newsletter
2013:
Winter
Archived Newsletters: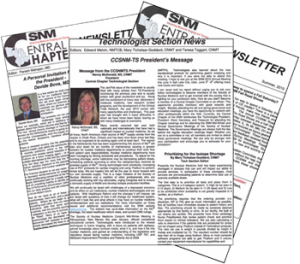 When a new issue is created, an email is sent to each Chapter member highlighting some of the articles and providing a link to go to the full newsletter on the web site. It is important then for each member to have their email on record with the Society of Nuclear Medicine that provides updated membership lists to the Chapter.
To update your membership records, visit the SNM web site (www.snmmi.org) and select the tab at the top marked "My Account". You will need your membership number and password to access this area. If you have not personalized your password, the default password is your last name.

Once in 'My Account", select "Update Member Record" click on "Edit" and update your records.
The Central Chapter of the Society of Nuclear Medicine formerly published a paper newsletter for mailing to members. A number of past issues are archived on this web site. Click on the respective links to download and view or print that particular issue.