Chicago, IL – The Central Chapter of the Society of Nuclear Medicine and Molecular Imaging (CCSMMI) will honor James R. Halama, PhD, FAAPM, FACR, Professor of Radiology for Loyola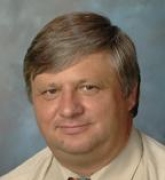 University Medical Center with the presentation of the Steven M. Pinsky, MD Distinguished Service Award, the highest honor the CCSNMMI can bestow upon a member. The Distinguished Service Award or Gold Medal will be presented to Dr. Halama at the March 21-22, 2020 CCSNMMI Annual Spring Meeting at the Hyatt Regency Milwaukee to recognize his outstanding leadership in organized medicine, community relations and his many years of dedicated service to radiology and nuclear medicine.
Dr. Halama received a Bachelor of Science Degree in 1972 from the University of Wisconsin- Eau Claire and a Bachelor of Science Degree in Nuclear Medicine Technology in 1973 from the University of Arkansas Medical Center.  He received his Master of Science Degree in Medical Physics in 1979 and his PhD Degree in Medical Physics in1983 from the University of Wisconsin, Madison.
In 1983 he began his long relationship with Loyola University being appointed Assistant Professor of Radiology for the Stritch School of Medicine and Nuclear Medicine Physicist for the Loyola University Medical Center.  In 2003, Dr. Halama was promoted to Associate Professor of Radiology and in 2014 was named full Professor of Radiology, the position he holds today.
Within the Loyola University Medical Center he was appointed Nuclear Medicine and Diagnostic Medical Physicist in 2001, added sister facility, Gottlieb Memorial Hospital in 2012 and Assistant Radiation Safety Officer in 2013.  From 1993-2005 he was a member of the Medical Center Committee on Academic Computer Users. From 1992-2014 he was a member of the Loyola University Medical Education Network Committee, and from 2012 to the present is a member of the Department of Radiology Safety Committee.
Dr. Halama has been active in a number of national organizations, including the American Association of Physicists in Medicine, American College of Radiology, International Electrical and Technical Commission, The American National Standards Institute, the American Registry of Radiologic Technologists and the American Board of Radiology. Dr. Halama received a Fellowship in the American Association of Physicists in Medicine in 2010 and Fellowship in the American College of Radiology in 2019.  He has given numerous lectures on nuclear medicine and PET instrumentation and quality control at nuclear medicine and physicist annual and chapter meetings. Along with Robert Henkin, MD he started and operated the Loyola University Nuclear Information System (LUNIS) in 1990.
He joined the Society of Nuclear Medicine and Molecular Imaging in 1981 and has been active in the Society at the National and Chapter Level.  Starting in 2004 to the present, he has been a member of the SNMMI Computer and Instrumentation Council serving as a board member, Secretary-Treasurer and President in 2008-2010.  He was also a member of the Scientific Exhibits Committee and a reviewer for a number of scientific journals.
Dr. Halama joined the Central Chapter in 1995 and became a member of the Board of Governors in 2012.  He was elected Secretary-Treasurer in 2014, President-Elect in 2015 and President in 2016.  As President, he was instrumental in balancing finances between the Chapter and Technologist Section, leading to two additional technologists being elected to the Board of Governors.
Dr. Halama and Alta, his wife, live in Warrenville, IL where they enjoy gardening, church, and community volunteering.  Always willing to share his experience as a scientist, for 13 years he has served as a Science Fair Judge for local schools.  Dr. Halama will be retiring in 2021 but will continue as a consultant to local healthcare facilities.